All our professionals at Southdale Periodontics maintain the highest levels of accreditation and pursue ongoing education to stay abreast of the latest trends in periodontics.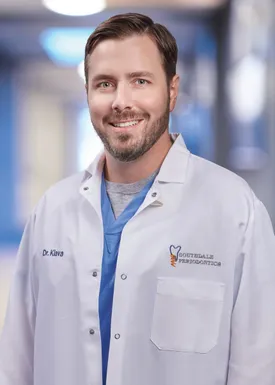 Jerod Klava DDS
Bachelor of Arts(2004), Psychology, Gustavus Adolphus College, St Peter, MN
Doctor of Dental Surgery (2008) – University of Minnesota School of Dentistry, Minneapolis, MN
Certificate of Periodontology (2011) – University of Minnesota School of Dentistry, Minneapolis, MN
Thesis Research – "Predictability of Prosthetically planned surgical guides used in placement of dental implants"
Professional Affiliations
Southside Comprehensive Seattle Study Club - Director
Diplomate of the American Board of Periodontology
American Academy of Periodontology
American Dental Association
Minnesota Dental Association
Minneapolis District Dental Society - Delegate
Adjunct Associate Professor, University of Minnesota School of Dentistry, Graduate Periodontology
Dr Klava is a native of Fargo, ND where he was exposed to the health care field by his father, a physician at Sanford Hospital. Dr. Klava played hockey for Gustavus Adolphus College during his undergraduate years. He has been very active in continuing education in attending national conferences along with training at the Spear Education Center in Scotsdale, AZ. He is also involved as Co-Director of the Southside Comprehensive Seattle Study Club. He and his wife, Jennifer have been married for 11 years and have a 6 year old son, a 4 year old daughter, and a fun loving 13 year old yellow lab Chopper. He keeps busy away from the office coaching hockey and soccer with his son, and learning gymnastics with his daughter. Dr. Klava enjoys all things outdoors from hunting to fishing, and snomobiling to biking. He is a big college hockey fan, especially his favorite team from the University of North Dakota.
---
Kiran Kingsley DDS
Dr. Kingsley received her periodontal training from University of Detroit Mercy (UDM) and Macomb Hospital in Michigan. Born in Northern India, she grew up attending English boarding School in Darjeeling, then Dental School in Nepal. After working as a General Dentist in India for 5 years, Dr. Kingsley left for the US following her life aspiration to become a Periodontist.
After UDM, Dr. Kingsley earned her Diplomate status from the American Board of Periodontics (ABOP). With a patient first mindset, Dr. Kingsley is extensively trained and certified for Laser Surgery by the Institute of Advanced Laser Dentistry. Laser Surgery is a less invasive and faster recovering technique, for patients with moderate to severe gum disease and patients fearful of scalpel surgery.
Dr. Kingsley is Co-Director of the Southside Comprehensive Seattle Study Club, and works as an Adjunct Professor for the University of Minnesota Graduate Periodontics Program.
Dr. Kingsley enjoys the four seasons (especially the fall colors) with husband Dan and young son Aanik. Residing in south Minneapolis, they take advantage of the trails and lakes locally. With her husband growing up in Minnesota, she has been introduced and enjoys ice skating, downhill skiing, and water-skiing. Dr. Kingsley has two siblings, a brother who runs a family construction company; and a sister who is a dentist and practices in New Delhi, India.
Dr. Kingsley speaks fluent Hindi, Nepali and conversant in Bengali.